Welcome to Friends of Haiti Canada
Please click here to see our video from our visit last February.
Haiti, the poorest country in the Western Hemisphere continues to suffer from the effects of the powerful earthquake which struck in 2010. Today many Haitians are living in extreme poverty with little or no way to help themselves.
Since 2012, Friends of Haiti Canada has had the privilege of being involved in humanitarian work in Haiti. We are a group of Canadians who want to help our friends in Haiti with education, healthcare, sports, housing, entrepreneurship, and dreams. The needs are vast and the situation is desperate. We believe the way to help Haitians help themselves is by empowerment through education, sports, and technology.
FOH Haiti team leader Maxeau Pierre on who is Friends of Haiti.
Are we making a difference? Our team leader Maxeau Pierre thinks so! Click here
Please join our Facebook group Friends of Haiti (Canada).
Education
Educating children and youth is key to helping them get out of poverty.
Click here to learn more.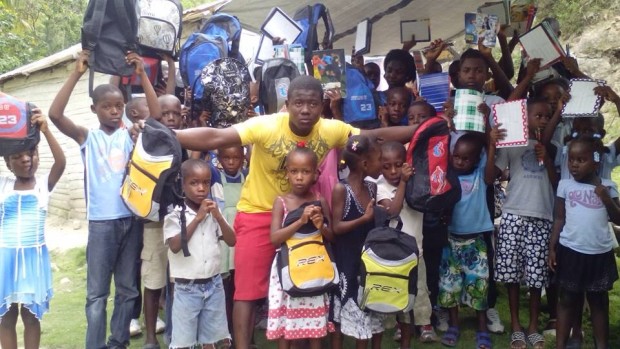 School supplies for the children of Marbial
Technology
With our laptop program, we are able to give many children access to technology.
Click here to learn more.
A computer lab for a school
Sports
Our soccer program helps give youth a sense of self-worth and an opportunity to have fun.
Click here to learn more.
A soccer program in Lavanneau.
To donate please click HERE and then click on the "donate online" button. Fill in your information and the donation amount and choose "Haiti Support" from the "give to" pull down menu. And Thank You!!